| | | |
| --- | --- | --- |
| | 7th National Camp, 2008 | |
Sonya Arabadzhieva
Sonya has been dancing since the age of eight and commenced her professional career in the ensemble 'Pautalia' as a teenager. She performed with Pautalia for seven years during which time the group toured Serbia, Macedonia, Ukraine and Russia. Sonya began teaching folk dancing and organizing dance spectacles as a primary school teacher. She continues using her teaching and choreographic skills in New Zealand since emigrating here with her family.
Sonya's folklore dance group 'Bulgarian Roses' has been participating in Auckland's recent cultural events. They were popular winners of the cup for Viva Eclectika 2007, Aotearoa's Intercultural Dance & Music bi-annual Challenge to nurture positive race relations and enrich cultural experience through a creative fusion of dance and music. Sonya's choreography for the item included Maori, Indian and Bulgarian styles, as well as integrating a group of local children with the adult dancers to create a depiction of "New Zealand's Future".
Bulgarian Roses dancers come from different backgrounds and speak different languages but together their performance adds vigorous dancing, dazzling colours, and irresistible music to any event through sharing the magic of Bulgarian Folklore. Bulgarian Roses dancers, together with the wider Auckland Bulgarian Community are also generous with their hospitality and have been sharing information on their cultural customs and traditionally prepared foods along with the dance party horos and ethnic costumes.
Bulgarian Roses performing at Parnell Rose Festival, November 2007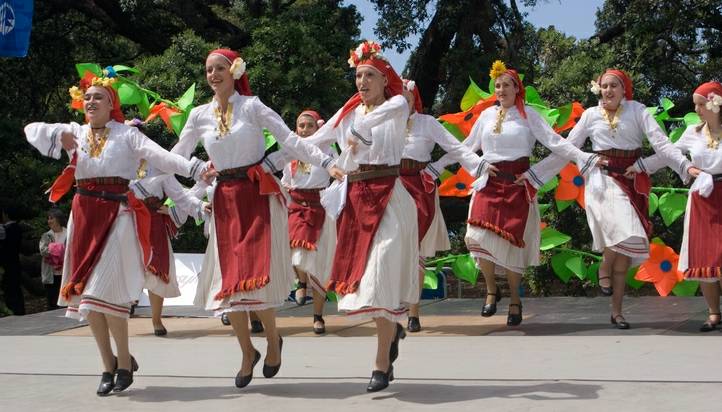 ©2008 Folk Dance New Zealand