| | | |
| --- | --- | --- |
| | 7th National Camp, 2008 | |
Živana Vajsarová
Živana is the very knowledgeable head of the dance department of the Arts School in Prague and has extensive teaching experience in many countries. She is well-known throughout Europe as a strong personality in dance education and dance folklore, and has received many awards for her choreography and teaching methods.
Živana specialises in teaching contemporary, folk dance and historical dances. She graduated MA from Prague Music Academy of Performing Arts where she studied dance pedagogy. Since then she has taken part in a number of courses and workshops in the Czech Republic and abroad. Prior to that she learnt from the Czech contemporary dancer Jarmila Jerabkova whose school Zivana attended and whose dance group she performed with.
Živana Vajsarová is the highly skilled daughter of the late Professor Frantisek Bonus. (1919-1999). Bonus studied at Charles University in Prague and published many specialised books and lecture notes. He was widely respected for his work on the theoretical and practical aspects of historical and folk dance. The materials he collected form one of the most important ethno-choreologues in the Czech Republic. Bonus was the one who introduced the favourite circle dance "Ceresnicky" to the International folkdance world. In the 1950s, Bonus established and led the children's dance group "Jaro" (meaning Spring) which Zivana attended as a child. The adult Jaro Dance Group, established in 1983, also benefited from his experience and practical advice. As the current artistic director and choreographer of 'Jaro', Zivana has been promoting her father's professional legacy and maintaining his choreographies in the group´s programme.
Živana's unique dance education teaching methods combine all of these influences. She is a regular tutor at the popular Dvorana Dance Week, run annually since 1999, and the Jaro Summer Seminars. These are attended by participants from all over the world, including New Zealanders! Definitely the place to go to learn the Bohemian origins and evolution of polka dance.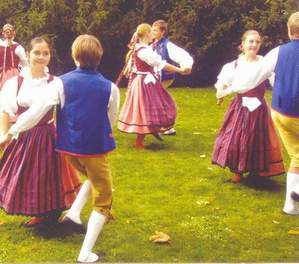 Jaro Dance Group has dancers from three different age groups (6-9, 10-14, and adult) who perform annually in Prague. The group also participates in national & international festivals. Their most recent tour took them to Japan in 2006 where they had been invited to participate in the 50th anniversary celebrations of the National Federation of Folk Dance in Yokohama. There, their appealing performances enchanted large audiences, who appreciated their dance technique and heartfelt expression. Zivana's workshops, too, were highly praised for her perfect teaching method.
Jaro's most significant project "The Golden Gate is Open" recorded selected Czech, Moravian and Slovak dances in video, audio and written formats suitable for teaching and learning resources. Zivana's more recent work involves historical dance from the Baroque, Rococo and Renaissance ages. Two historical films have been made drawing on these archival materials. Jaro specializes in 19th century historical dances – especially the polka. These compliment the masks, games, carols, customs and folkloric dances of Bohemia (Central Czech), Moravia (Eastern) and Slovakia in their repertoire.
©2008 Folk Dance New Zealand