About Folk Dance New Zealand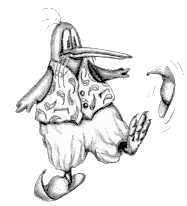 Folk Dance New Zealand was set up by folk dancers, for folk dancers, to get more folk dancing!
Anyone can join - as a group or individually.
We aim to promote and support all types and functions of folk dancing by sharing information, resources and expertise.
FDNZ is a registered charity - registration number CC20651 - see the rules.
Our sister organisation, Folk Dance Australia, has similar aims.
Benefits of Membership
Click here for a membership form! Tip: print it 2-sided, flip on short edge, to get tear-off portions together
See our Gallery, with a time-line of events and gatherings. Some content relating to early events is listed on our Archive page.
What is Recreational Folk Dancing?
having fun moving to the world's most exciting rhythms - east, west, north and south!
exercise with laughter for people with no more than two left feet!
whole-self exercise, keeping you going physically, mentally, and socially, with a sustained but moderate aerobic level. (Hey - it's sustainable!)
much more fun and variety than a workout at the gym!
stress-relief to music that is exhilarating, haunting, or even soul inspiring...
exercise flavoured with Hungarian goulash and Russian Vodka!
a huge range of dances - from Europe to Asia, Africa to the Americas, and the Pacific
if you like dressing up and performing, you can do that too!
Select from the menu for classes, events and contacts around the country. For more information, e-mail
A detailed history of FDNZ is available here:

FDNZ-Historical-Timeline.pdf [PDF]
Support for Ethnic and Cultural Groups!!
Does your dance group or community have access to dance teachers and interesting ethnic or cultural folk dance repertoire, music, or performance choreography?
Have you considered hosting a weekend event in your community open to enthusiastic folk dancers from around NZ, keen to meet with other folk dancers, learn about diverse folk dance styles, and gain new repertoire?