GREEN GINGER
Hamilton,
Labour Weekend 2004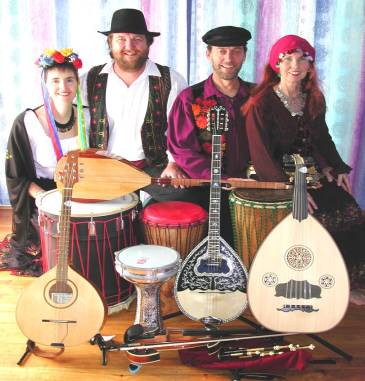 Maggie Morgan - Fiddle, Recorders, Northumbrian Pipes, Arabic Keyboard, Vocals
Greg Morgan - Mandola, Baglama, Cumbus, Djembe, Egyptian Tabla, Tapan, Vocals
Larry Jacobson - Greek Bouzouki, Ud, Guitar, Bougarabou, Darabukka, Vocals
June Jacobson - Dance, Percussion

Green Ginger's unique and colourful interpretations of Gypsy, Medieval, Klezmer, Eastern European and Celtic music have gained them recognition as a band with a difference. Their strong rhythmic stage presence will have you dancing all the way from Belfast to Bucharest. Their music with it's strong international flavour makes Green Ginger an ideal band to perform at the Folk Dance NZ National Workshop in 2004.