Gallery
All images ©1994-2018 Folk Dance NZ or the photographers where named.

Follow these links for more galleries:
Mountain Rhythms, April 2018
Showcase of teaching talent by New Zealand folk dance experts. We danced in (not on) the bar at Out In The Styx, and learned dances from Portugal, Scotland, Crete, Greece, Romania, and elsewhere. We finished off with coffee at Rhubarb and a walk on a swing bridge. Fun!
Kyriakos Greek Dance Workshop, April 2017
Dance promoter and teacher Kyriakos Moisidis visited Auckland on 1 April, 2017. The following day, further dances were taught by resident New Zealand teachers. Altogether a fantastic weekend! See the review in the 2017 Folkdancers' Own magazine.
Rhythm & Grapevines, September 2016
A fun weekend with a full menu of folk dances from around the world held in Gisborne, 23-25 September, 2016. Choose from the galleries below. See the review in the 2017 Folkdancers' Own magazine.
Winter Winter WarmUp, August 2015
A dance party brought together 15 performing groups, who showed dances and invited the audience to join in. The event was the annual Winter WarmUp - held 8 August, 2015 at Danish House, Auckland. Click/tap the image to go to the gallery.
Past Years Gallery
Click on the images to view on-screen. Then use the browser 'back' button to return to this page. Some have links to hi-res versions suitable for printing or download.
AMS Party, 11 June 2011
"We had a great time at the AMS ceilidh last night. Over 60 people gathered, and we enjoyed a varied Anglo-Celtic romp with the Gaidhealtachd band, performance dancing and joining in with Bulgarian Roses, a brilliant exposition of fast syncopated Irish fiddle playing by Alasdair Robertson, and good company, besides a yummy supper." - Rae Storey

Dancers at the AMS ceildh
Photo: Nikolay Kabzamalov (neweldesign.com)
Folk Dance Camp, 4-6 June 2011
Workshops spanned the world, with tutors from Aotearoa, Bulgaria and France. Evening socials included Contra dancing from America, French community dance in the form of a bal, and a spectacular performance by Polish group Lublin.
For more great shots, go to FDNZ National Camp 2011 gallery by Michael Edge-Perkins of syncretism associates.
French Dancing at the Indigo Festival, March 2010
In March 2010 Hamilton hosted the Indigo Festival - a festival of cultures - where diverse ethnic groups participated in a week-long exploration of culture, language and performance. Dance Folkus was asked by the Hamilton Alliance Française society to represent them with a bracket of French dances at the final cultural event.
See also:
Folk Dance Camp, 5-8 February 2009
An action-packed weekend of workshops, evening parties, networking and fun. Guest tutor was the lovely gentlewoman Maggie O'Regan brought us a lovely selection of international dances - mainly Russian, but also Ukrainian, Tibetan Chinese, Albanian, Croatian, Czech, Greek, Turkish and Romanian. See articles starting on page 5 of Folkdancers' Own, December 2009 (PDF, 1.5M).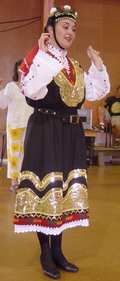 Sonya Arabadzhieva at FDNZ National Camp 2009
Photo: Rae Storey
hi-res (389k)

Alastair Sinton leading dances at the 2009 FDNZ National Camp
Photo: Tony Devenish
hi-res (540k)

Group photo at the Saturday evening dance/party, including Footspa members in the background
Photo: Tony Devenish
hi-res (434k)

Farandol 30th birthday group shot
Photo: Tony Devenish
hi-res (med: 610k)
hi-res (large: 5M)

Maggie O'Regan leading others, including Katy Sinton and Rae Storey, in one of the dances she taught earlier in the day
Photo: Tony Devenish
hi-res (466k)

Sonya and her daughter, Tina, in traditional costume
Photo: Tony Devenish
hi-res (527k)
People just having fun...