Polish Dance in Wellington
The Lublin Dance Company
The aim of the Lublin Dance Company is to demonstrate Polish Folk Dances and Song to both the Polish and the wider community in New Zealand. Lublin enables people interested in dance to get together to learn and perform Polish Folk Dances and to build friendships with other members of the group on a more social level.
History
The Lublin Dance Company has represented the Polish Community in Wellington for 25 years. It was founded in August 1981 with the arrival of choreographer, Jacek Sliwinski. Along with his wife Anna, they started Lublin, attracting primarily young people of Polish origin to the group, by offering them a way of expressing their cultural heritage through the language, song and dance of Poland.
Lublin gave their first performance on 14 November 1981. Since then, Lublin has given over 350 performances at numerous events throughout New Zealand, including multi-cultural concerts, festivals, and dance extravaganzas. Lublin has also performed in Australia, at the Polish Art Festivals in Melbourne in 1984 (with concerts in Sydney and Canberra), Brisbane in 1988, Sydney in 2003 and Hobart in 2007..
Lublin's repertoire includes all five National Dances - the Polonaise, Krakowiak, Mazurka, Kujawiak and Oberek - and Regional Dances from the Lublin, Kurpie, Silesia, Wielkopolskie, Opoczno, Kaszuby, Rzeszow and Sacz regions.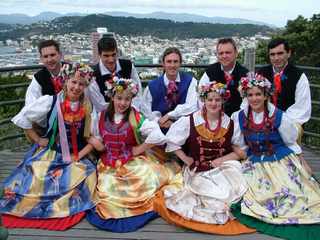 Click to enlarge image
Since 2000, Lublin's Manager and Instructor has been Leszek Lendnal, a member of the group since its inception. Lublin continues to grow and develop, attracting new dancers interested in learning a unique style of dance, building relationships with other groups around the world and, most importantly, performing and demonstrating the rich Polish Folk Culture through its Dances and Song to the Polish and wider community.
Activities
The Lublin Dance Company performs at various events, including multi-cultural festivals and dance extravaganzas as well as Polish Community events. We also run workshops to introduce Polish Folk Dance and Song to the wider community. Lublin holds weekly classes on Monday nights, starting at 7.30pm at the Polish House, 257 Riddiford St, Newtown, Wellington.
Membership
If you are interested in learning more about Polish Folk Dancing and/or would like to join Lublin, please contact Leszek Lendnal. His details can be found below.
Contact Details
The Lublin Dance Company, Wellington, New Zealand:
Manager: Leszek Lendnal

Postal Address:

26 Domanski Crescent, Island Bay, Wellington 6023, New Zealand

Email: leszek . lendnal @ gmail.com

Phone: 04 494 2504 or 021 383 958
Lublin And Obertas Polish Dance DVD
Whether or not you saw the Lublin And Obertas Polish Dance Spectacular on 10 December, you might like a copy of their DVD! Click for ordering info.
Last updated: 20 March 2012