< back to top < > skip to end >

Aleksandar Zankin
Excerpt from an article by Kay James that appeared in "Let's Dance!", September, 2010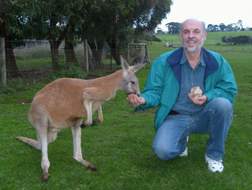 Aleksandar Zankin and friend on a recent teaching tour in Australia
Aleks is Bulgarian and has been living in the U.S. for about six years. He lives in Pittsburgh, Pennsylvania and teaches character dance at the Pittsburgh Ballet Theater. He and his lovely wife, Vanya, came to that area as a result of following their daughter, who had won a scholarship with the Duquesne Tamburitzans and who went on to get a doctorate degree at the University of Pittsburgh. Aleksandar received his Master of Arts degree in Bulgarian Folk Dance. Zankin was not only a principal dancer and choreographer in the State Military Ensemble for Folk and Character Dance in Sofia, but he toured extensively and served as artistic director of the Macedonian ensemble, Gotze Delchev and the folk ensemble Sevlavtzi. Additionally, he was awarded the European Award for Folklore in Hamburg, Germany as choreographer with the ensemble, Bistritza.
Zankin grew up in a musical family where singing, dancing and playing instruments were their everyday social activities. His grandfather was a famous accordionist, his father was a singer, and his mother taught accordion, and the unrecorded songs that he learned in his youth have stayed with him to pass on to professional musicians. So, music is in his DNA and his bones, one could say, but the enthusiastic passion he has for teaching dances to people is something else. He has that special quality of bringing dancers up to a higher level, assuring them that they can do whatever it is that he wants them to do, and it becomes a win-win situation for both teacher and students. Aleksandar is a 60-year-old man with the energy and passion of a 20-year old who can inspire other 50-70 year-olds to dance joyfully until they practically drop. If this isn't a gem of a new teacher discovery, then I'll eat my dance shoes!
Take a look at Aleks's stunning resumé - we're extremely fortunate to have one such as Aleks as guest tutor!
About Aleks's Workshops
Sessions will be graded moderate and advanced, allowing participants to choose their own level. A revision session on Monday will give you a chance to fill in any gaps.
See the programme for times of Aleks's workshops!