< back to top < > skip to end >
Dance Tutors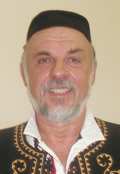 Bulgarian Dancing with Aleksandar Zankin
Learn from an award-winning master of Bulgarian dance, whose resumé includes over thirty years dancing, choreographing and directing in Bulgaria before moving to U.S.A., where he now teaches character dance at the Pittsburgh Ballet Theater. See Aleks's profile for more on his fascinating story!
Aleks has that special quality of bringing dancers up to a higher level, assuring them that they can do whatever it is that he wants them to do, and it becomes a win-win situation for both teacher and students. Aleksandar is a 60-year-old man with the energy and passion of a 20-year old who can inspire other 50-70 year-olds to dance joyfully until they practically drop.
Sessions will be graded moderate and advanced, allowing participants to choose their own level. A revision session on Monday will give you a chance to fill in any gaps. Check out the programme for workshop times.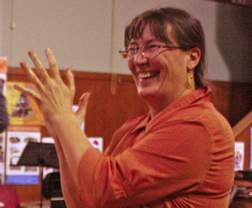 French Dancing with Kate Grace
Learn from someone who grew up in France with dance always there behind the scenes, whose roots come from a mother born in Morocco and a father from the mountainous regions of the East of France. See Kate's profile for more about her interesting and varied life.
Kate will teach three sessions, including two of new repertoire and one preparing for the Bal Français and concert led by Kate and her friends on Sunday evening.
Poi with Hine Poa
We're extremely fortunate to have Hine coming to teach us some poi! Learn how to make your own poi. Groups will learn either a single short poi or a long poi. These will be done to simple short waiata.
Hine has been a teacher of Maori language for more than 40 years and has tutored and performed with many kapa haka groups. She has taught all sorts - from pre-school children to seniors - and has been involved in regional and national competitions and in performances locally and overseas - including at the opening of the Sydney Opera House.
Please see Hine's page for more detail and what to bring.
Other Workshops
Singing with Jonathan Berkahn:

a chance for to you to exercise your vocal chords as well as the rest of your body, singing songs from around the world. All are welcome: you don't have to be an experienced or confident singer - you will be by the end of the workshop! See Jonathan's profile for more.

Stretch and Flex with Sylvia Edge-Perkins:

a package of techniques to gently cultivate strength and flexibility. Please bring a yoga mat or towel, and water. See Sylvia's profile for more detail.

Kate Goodwin dance favourites:

in this session we remember Kate's contribution to folk dance in New Zealand. Leaders from around NZ will briefly demonstrate dances before inviting everyone to join in!

Warm-up sessions

will run for 15 minutes each morning before dancing starts - come early to raise your energy levels, sharpen your mind, reduce the risk of injury and take good care of your body.
For workshop times, see the programme.