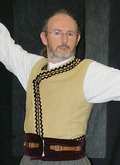 Kieron Horide-Hobley, Editor, ph. +64(21)910-403, E­mail:
Editor's Requirements
Submissions may be:
hand-written - photo ready (for optical character recognition) - electronic media
Media: e-mail, CD-ROM, DVD, 3½" IBM-format disk
Electronic Formats
If possible e-mail it, or contact the editor to obtain a postal address to send media to. Please apply no formatting except what you need for the article (e.g. italics, bold, Heading styles). I have to undo any nice presentation you do, before I can format it for production.
If editorial modifications are made, whenever possible and time permitting the editor will attempt to make copy available to contributors for checking before publication.
Events and Class Notices
In events and class notices please state:
whether it's suitable for the general public / beginners / experienced dancers / members only
where it is
what time it starts and finishes
what it costs, and
who to contact.
If you're looking to advertise commercially, please see our terms and conditions.
Images And Video
Photos and graphics must be accompanied with: name of photographer or artist, names of subjects, source (if from another publication), date or occasion, and proposed wording for the caption.
If you require no modification of the image as supplied (the editor may crop, adjust colour and contrast), please state terms of use.
Images are preferred in compressed formats. Please don't send by e-mail bitmaps (BMP format) or TIFF, the default on many scanners – deliver these on a CD ROM if you have no other way of sending them.
For photographs, JPEG format scanned at around 400dpi to 600dpi is recommended in order to keep file sizes low while retaining sufficient quality for publication. As a guide, for a photo, file sizes in the range 400k to 1500k give reasonable quality for publication.
For text and line art with few colours and gradients, GIF or PNG formats are strongly recommended.
Hard-copy Text
Printed or typed articles will be scanned using optical character recognition software. Requirements:
• At least 12-point font preferably Times or Courier, with margins at least 20mm on all sides.
• Line spacing double if possible.
• Paragraph breaks clearly identified with an extra carriage return (Enter key).
Hand-written articles should be legible and submitted well before publication, to allow for typing and proofreading.
Photo-ready items (stand-alone items less than one page, where electronic copy not available): A4 in 12-point Times or Arial font, with margins at least 14mm on all sides.
Copyright And Terms Of Use
Note that most if not all material on this website has been given to FDNZ under the following conditions. If you want to use something, please respect people's choices, and do contact the editor if in doubt. I won't bite.
If you send to FDNZ text, image and/or video footage (content), unless otherwise stated, you agree and warrant that:
You are the owner of the copyright of the content submitted.
The content was obtained legally and is not in breach of the rights of any third person.
You grant a non-exclusive right of use of the content to Folk Dance New Zealand, Inc. (FDNZ) in printed publications and on websites, for non-commercial purposes only.
This right exists in perpetuity or until you withdraw permission in writing to the Editor.
Content may be edited or abbridged where it is in error, to lay it out or to fit the context of its publication, as long as its original sense and meaning remains unchanged.
Images and video footage may be cropped, edited and colour-adjusted according to the discretion of the editor.
FDNZ is under no obligation to use the content.
Unless otherwise stated, Folk Dance New Zealand, Inc. (FDNZ) agrees and warrants that:
FDNZ will not assign its rights to any third party.
FDNZ will give attribution to you wherever possible.
Approval will be sought from you, on a best efforts basis, for any edits or changes that coul significantly change the sense or meaning, or affect the artistic values of images or video footage.
If you withdraw permission to use the content, then FDNZ will undertake to remove the content from public display on a best efforts basis.
Important Advice to contributors
It is the responsibility of contributors to seek permission from any sources where copyright might be an issue, and give appropriate acknowledgement. Permission to use any photograph of a person should also be sought - this publication appears on-line and not everyone wants their image to appear on the internet.
Enclose a post-paid self-addressed envelope if you want materials returned to you.
Contributors are advised to retain a copy of all materials in case of loss.