< back to top < > skip to end >
Camp 2012 Tutors: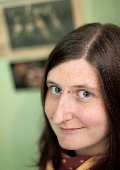 On this page:
What's on this year?
The camp runs from Friday 1-Monday 4 June (Queen's Birthday weekend) and will feature:
Workshops with Gary Dawson from Australia. Gary will be offering a mixed programme featuring

Croatian, Transylvanian and other, mainly Balkan,

dances. He'll run a "Balkan Dance with a Gypsy twist" on Sunday night.

Workshops in

French

dance, leading to a French bal (community dance - note, not a formal ball! Come to have a good time.).

A

Friday Favourites

social, giving folk dancers a chance to share and dance their favourite dances with friends from around the country.
A stretch and flex session, to keep us limber for dancing.
The FDNZ AGM, with earlier opportunities for discussion of matters of interest to the folkdance community.
Where is Camp 2012 being held?
The camp is being held in the centre of Wellington, where we take over the top floor of the Whitireia Performance Centre, 25-27 Vivian St, Wellington. It has a wonderful dance floor, views over Wellington, and plenty of break-out space.
This is near Courtenay Place in the central city. There are lot of eateries nearby and various accommodation options.
Who can come to Camp 2012?
Morning workshops are designed for folk dancers. They are not generally suitable for complete beginners* or children (sorry!).
However, the evening socials are for everyone, including Saturday afternoon preparation for the Bal, so family and friends of all ages and stages are very welcome, including folks not attending other workshops (entry $15 / $10).
* If you've been to the sort of dance class where you learned basic steps like the grapevine, etc., you're not a complete beginner!
Fee Options
Please see the Registration page for details about fees and conditions. Flexibility has been built in, so you can structure your attendance how you wish. Please note, catering will be available for those who register by 25 May, and discounts are available for full registrations before 5 May.
Accommodation
Book early! There's a lot on in Wellington that weekend. We've listed some local accommodation options on the Accommodation page.
Catering
We will provide morning and afternoon teas (tea, coffee, juice and something yummy), and lunches. These will all be meat-free. For the evening socials, please bring a contribution to the shared suppers. Drinking water will be available at all times. If you have special dietary requirements, please note them on the registration form. We'll do our best to ensure you have the right things to eat.
We can only cater for people who register by 25 May. People coming on a casual basis on the day will need to provide for themselves - there are places to buy food nearby.
Your Personal Information
We will use the details you provide us with on your registration form for camp administration. We also plan to prepare a list of the names of people who register, to share with other participants. If you do not want your name put on that list, please tell us on the registration form.
Resources
A CD and DVD can be ordered on the registration form. The DVD of camp dances will be made during the camp.
NEED FURTHER HELP?
Don't hesitate to ask! The best way to contact us is by email organisers: camp @ folkdance.nz . This will be checked regularly, but not necessarily daily. If that doesn't work for you, you can phone Michele on 04 972 2350, or Sonia on 027 405 1302.
Camp weekend emergency contact: 021 910403
What is happening in Wellington around that time?
These websites list events, exhibitions and happenings in Wellington:
Last updated: 27 May 2012