< back to top < > skip to end >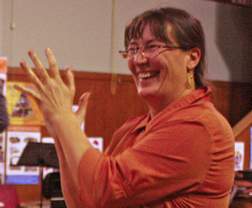 Kate Grace
STOP PRESS!
Kate Grace is unwell and, very sadly, will be unable to join us for the French sessions on Saturday. However, others have stepped into the breach and we will still be going French on Saturday afternoon and evening.
We're pleased to announce that Fiona Murdoch and Rae Storey will each do a workshop in the afternoon. We're very grateful to them for undertaking to do this at very short notice, and know that they will do a great job.
For the bal, Chill Jam will be playing for us as we dance dances learned at those workshops and in previous ones, but we also have a special guest band - A Bout de Bretelles. This two-man band from Brittany will provide the authentic French touch and do a guest slot during the bal to lead a few dances and play some of their lovely and lively music.
As for many French natives, Kate's lineage is not a straightforward one. Kate takes her roots from a mother born in Morocco and a father from the mountainous regions of the East of France. She grew up in France with dance behind the scenes, her mother taking a particular interest in Israeli and Greek dance at the time. Maybe because of family interest, maybe out of energy to burn, or just maybe because it was trendy at the time, she was drawn towards the study of traditional dance from Africa. Her position as a primary school teacher not only left her plenty of time to take part in dance classes and music holiday camps but also gave her the opportunity to incorporate dance in her day-to-day teaching.
She flew to New Zealand in 1995 hoping to settle in the Portugal of the Southern Seas as Dunedin was described to her by kiwi husband David. Facing instead the Antarctic wind and the Dunedin sound, she was torn between the choices of letting go of her passion or taking the bull by the horns: she threw herself into the task of becoming a teacher of African dance. Class after class, she extended her repertoire and developed confidence through work and dedication. She taught African folk dance for thirteen years in a lively and energetic manner supported by the intricate rhythms of David's live Songbong drummers.
David and Kate took their three children on the rocky road of a three-year stay back in France. There, she reconnected with dancers and musicians interested in traditional forms of dance from France and Europe. She took the opportunity to avidly participate in workshops, classes and festivals. Once back in New Zealand and adapting to her 50 year old body, she now teaches traditional dances from France and from the Balkans in Dunedin. Kate is convinced of the inseparability between dance and music; she surrounded herself with fine musicians and plays her flute in a 5-piece band in the French bals she organises.
Kate is a community worker half of the time and spend the other half researching, rehearsing and doing dance and music. She leads constant friendly battles with her garden, can understand animal languages, and could have been a colourful visual artist.
She hopes the seeds of French dancing she is now sowing in Dunedin will grow into a solid part of the local landscape.

Links
"Les Belles Vilaines" website: frenchdancing.co.nz
Articles in Folkdancers' Own:
Frenchness ... Not Just Food (PDF, 145k) - December 2009

"Les Belles Vilaines" - French dancing and beyond (PDF, 212k) - June 2010

Bastille Day Does Not Always Conveniently Fall On A Week End! (PDF, 230k) - December 2010