< back to top < > skip to end >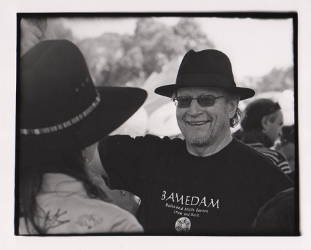 Gary Dawson
Gary Dawson has been teaching folk dance for over 30 years, specialising in Balkan and Hungarian dance styles, and occasionally throwing in a Mexican, Austrian, English or Danish dance for fun as well. Gary has taught and choreographed for Macedonian, Serbian, Greek, Turkish and Hungarian community groups, international folk dance groups, amateur and professional dance ensembles and dance camps and festivals in Australia, New Zealand, France, Germany, Hungary and Serbia.
About Gary's Workshops
Gary will be offering a mixed programme featuring Croatian, Transylvanian and other, mainly Balkan, dances.
Gary's dance workshops and dances are energetic, educational, fun and a social event. You'll come away from his workshops smiling and sweaty as his teaching style captures the atmosphere of a village 'sred selo' (Serbian, colloquially translated as dance in the middle of the village).
With a rich source of knowledge and experience, Gary passes on information and anecdotes about the people, places and traditions he's visited and learned from and about.
Footage of Gary's dancing can be found on YouTube. Gary will teach on Saturday and Sunday morning, and will run a dance on Sunday night with our fabulous Wellington band Chilli Jam.
See the programme for times of Gary's workshops and Sunday social, titled "Balkan Dance with a Gypsy twist"!