Regional Dance Events
Christchurch
Celebrating 40 Years!
Please visit the Farandol site for up-to-date details of events and dance classes...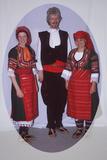 This symbol means you too can dance! Some events are further marked 'experience required'. These are suited to people with some sort of dance experience - also see our class listings to find one near you so you can learn the basic steps and join in!
Events listed may be associated with FDNZ, any of its members, or non-affiliated groups - all are bound to be heaps of fun!!
Last updated: 23 June, 2019