Folkdance Classes
Auckland
(also see: upcoming special events and socials in Auckland and Northland...)
Ruritanian International Folk Dance Club
International Folk Dance classes in Auckland are listed on the Ruritanians website, including Korean, Israeli, Chilean, South American, Morris, Chinese & Taiwanese dancing
This Club holds occasional parties and workshops, and the annual Winter WarmUp and a dance workshop in August. See the Club's website, which lists classes around Auckland city, regular events and some photos: ruritanians.folkdance.nz

.
For more information:
While measures are in place during the Covid-19 pandemic, it would be wise to contact group leaders and event organisers before attending for the first time.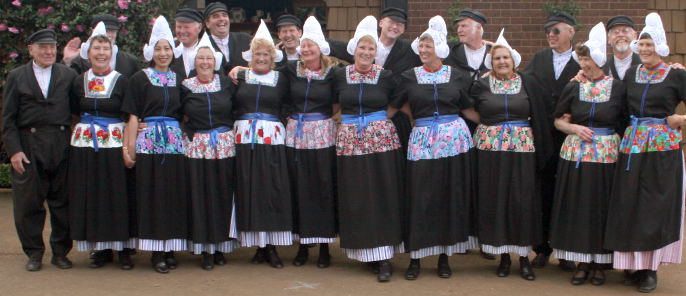 Specialist Ethnic Dancing
There are a number of teachers and groups who provide specialist ethnic dancing in classes, parties, or for performance. Among these are:
African - Dances of Africa with Live Drumming - Wednesday evenings 7:30-8:45 pm at Saint Columba Community Centre, 92 Surrey Crescent, Grey Lynn. No experience necessary! For more info go to nikadance.co.nz

or to register contact Monica on 022 161 2329 or
Auckland Dutch Dancers: Contact: Jose Harris, ph. (09)631-7316,


Bulgarian Roses: contact Marieta Kolarska, e mail: , ph. (09)4451726 - facebook: facebook

- also see Bulgarian Roses on YouTube.
Early Dance: monthly on the fourth Friday, 8.00pm at St John the Baptist Anglican Church Hall, 47 Church St, Northcote. [MAP] Cost: $5. Contact Karen Vernon, e-mail: karen.plantagenet @ gmail.com ... Covers dances from the European Renaissance to Victorian 15th Century to 19th. It primarily covers Western Europe, France, England and Italy. These are a little more class oriented due to the variety of styles and stepping. Web: englishcountrydance.org.nz

- and on Facebook: Facebook


English Dancing: Monthly on 2nd Friday (except January), 7.30pm at St John the Baptist Anglican Church Hall, 47 Church St, Northcote. [MAP] Cost: $4. Contact Beth Harris +64(9)445-9386, e-mail: bethjh07 @ gmail.com , web: englishcountrydance.org.nz

and on Facebook

... This a more a social than a class, but no experience is required and beginners are always taken under the wings of more experienced dancers and shown the figures. The dances are always 'called' so no-one needs to spend a lot time learning before being.
Folklore Chileno Latino: music and dance from South America and Spain. Networking evenings monthly 1st Friday at Jubilee Hall, Mount Albert Baptist Church, 732 New North Road, Mount Albert. [MAP] Cost:$10, children under 12 free. Contact: Ana-Maria, ph. (09)638-6771, e-mail:
French: Performing group rehearses Tuesday mornings. No recreational class. Rae Storey, ph. (09)5249504, e-mail (click here for Rae's CV)
Greek: Dance sessions might be held, contact Denny Wood: 021-0530-338, dennywood @ orcon.net.nz
See also www.greekcommunity.org.nz

.
Israeli: Go to the Machol Pacifica website for NZ national listings

- Maayan Israeli Dance Group usually meets Wednesdays in Epsom (sometimes Tuesday). Best to contact Jenni on the day for day and venue: Jennifer Gottschalk, +64(9)480-4330,
"Normal session starts at 7:00pm, beginners start at 6:30pm on request - as in if I know beginners are wanting to come, I'll be there at 6:30pm."
Morris, Rapper, etc: Contact Andy Smith, (09)361-2133,
Renaissance Dancing: Thursdays, 7.30pm - 9.30pm during school term, Avondale Lions Hall, 1630 Great North Road. Contact: Katherine Davies, ph. 0272 282 977, katherine.may.davies @ gmail.com
See Katherine's Dance Site for notes, articles and blogs. For more information about the Society for Creative Anachronism: ildhafn.sca.org.nz
Welsh: contact Derek Williams ph. +64(9)837-4396, e-mail: louiseawil @ gmail.com
Several ethnic societies have dance groups, including the Danes, the Dutch, and the Dalmatian Cultural Society. Some of these welcome visitors to dance with them on certain evenings.
Other Styles
There is much available in Auckland now, eg. several schools of bellydancing

, Spanish, Latin, and CeRoc

, line dancing, Dances of Universal Peace

, many Scottish and square dance clubs, opportunities in African and Asian styles, and occasional Celtic ceilis.
Capoeira, the Brazilian cultural art that is a dance, fighting game that could be classified as 'Ethnic dance': Yan Agate
Coordinator, mob. 0275-144-629, www.capoeira.org.nz - email: capoeira@capoeira.org.nz

Ballroom, DanceSports, Ceroc, Line Dancing, bands, shopping, gigs: go to wheretodance.co.nz

Latin: The Auckland University Hispanic Club has listings of classes and events. www.geocities.com/hispanic_club/

Last updated 13 August, 2020