Folkdance Classes
Gisborne and Hawke's Bay
(also see: upcoming special events and socials in Gisborne and Hawke's Bay...)
International Folk Dance - Gisborne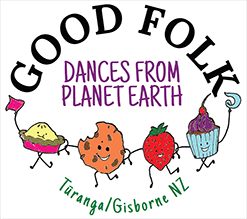 Good Folk: Dances from Planet Earth meets once a month on Saturday for an eclectic mix of community dancing from planet earth. No partners, experience or skill necessary. $5 at door and plate for supper. Check out Facebook for next dance date. Contact: Jane at
Circle Dancing - Haumoana
First Wednesday of the month from February to November at St Francis Church, Beach Rd, Haumoana, Hawkes Bay, from 7:30 to 9:00 p.m. Cost is a gold coin.
Contact person : Margaret Gwynn, phone (06)835-2122.
Circle dancing is a simple form of dance using a small sequence of steps repeated many times. It draws on folk dances and modern dances created to classical music. Dances can be energetic or meditative. No partner is needed.
Hawkes Bay International Dancing Group

Click to enlarge image
Last updated 3 August, 2020